Experts
Ronna Prince Dr. Donald Backstrom
Gregg Braden Dr. Joe Dispenza Dr. Rocco Errico
Cynthia James Sunny Dawn Johnston Nicholas Mann
Dr. Rollin McCraty Sarah McLean Mary Manin Morrissey
Dr. Deborah Rozman Colin Tipping Mike Booth
Uqualla Larry Running Turtle Salazar
David Swallow Jr. Ernesto Hernandez Olmos
Auntie Nahi Angaangaq Angakkorsuaqq
Hunbatz Men Grandmother Margarita Nunez Garcia
Authors, Speakers, Scientists, Researchers, Physicians
Gregg Braden – Scientist and Researcher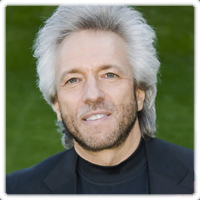 New York Times best selling author Gregg Braden is internationally renowned as a pioneer in bridging science and spirituality. Following a successful career as a Computer Geologist for Phillips Petroleum during the 1970s energy crisis, he worked as a Senior Computer Systems Designer with Martin Marietta during the last years of the Cold War. In 1991 he became The First Technical Operations Manager for Cisco Systems, where he led the development of the global support team assuring the reliability of the internet in its early days.
For more than 22 years, Gregg has searched high mountain villages, remote monasteries, and forgotten texts to uncover their timeless secrets. To date, his work has led to such paradigm-shattering books as The Isaiah Effect, The God Code, The Divine Matrix, Fractal Time: The Secret of 2012 and a New World Age and his most recent, Deep Truth. 

Gregg's work has been published in 17 languages and 30 countries and shows us beyond any reasonable doubt that the key to our future lies in the wisdom of our past.
Website: www.greggbraden.com
---
Dr. Joe Dispenza - Dr. Dispenza is a chiropractor, researcher, teacher and author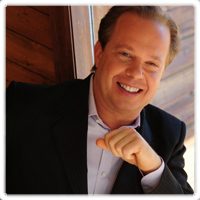 Joe Dispenza, D.C., the author of Breaking the Habit of Being Yourself, and Evolve Your Brain, studied biochemistry at Rutgers University and holds a Bachelor of Science degree with an emphasis in neuroscience. He earned his Doctor of Chiropractic degree from Life University in Atlanta, Georgia, and has received postgraduate training and continuing education in neurology, neuroscience, brain function and chemistry, cellular biology, memory formation, and aging and longevity. One of the scientists, researchers, and teachers featured in the award-winning film What the BLEEP Do We Know!?, Dr. Joe has lectured in more than 24 different countries, on six continents, educating people about the functions of the human brain. He has taught thousands how to reprogram their thinking through scientifically proven neurophysiological principles. When not traveling and writing, Dr. Joe is busy seeing patients at his chiropractic clinic near Olympia, Washington. http://www.drjoedispenza.com/Biography.aspx
---
Dr. Rocco Errico - Minister, Author, Aramaic Scholar and Researcher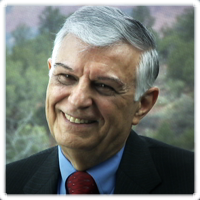 Dr. Rocco A. Errico is an ordained minister, international lecturer and author, spiritual counselor, and one of the nation's leading Biblical scholars working from the original Aramaic Peshitta texts. For ten years he studied intensively with Dr. George M. Lamsa, Th.D., (1890-1975), world-renowned Assyrian biblical scholar and translator of the Holy Bible from the Ancient Eastern Text. Dr. Errico is proficient in Aramaic and Hebrew exegesis, helping thousands of readers and seminar participants understand how the Semitic context of culture, language, idioms, symbolism, mystical style, psychology, and literary amplification—the Seven Keys that unlock the Bible—are essential to understanding this ancient spiritual document.
In 1970, Dr. Errico established the Noohra Foundation as a non-profit, non-sectarian spiritual-educational organization devoted to helping people of all faiths to understand the Near Eastern background and Aramaic interpretation of the Bible. Dr. Errico's publications include: Aramaic Light on the Gospel of Matthew, Aramaic Light on the Gospels of Mark and Luke, Aramaic Light on the Gospel of John, And There Was Light, Setting a Trap for God. http://www.noohra.com/
---
Cynthia James - Author, Singer-songwriter, Minister, and Speaker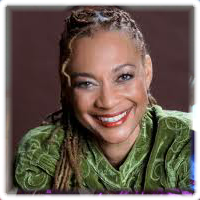 Cynthia James is a transformational specialist and one of today's brightest and best loved inspirational leaders and teachers guiding thousands of people to make changes at a deep level for lasting healing in their lives. She is the author of "What Will Set You Free", as well as a singer songwriter. She is a minister at the Mile Hi Church in Denver.
Cynthia James is a transformational specialist and one of today's brightest and best loved inspirational leaders and teachers guiding thousands of people to make changes at a deep level for lasting healing in their lives.
Cynthia's life was transformed as she transcended her childhood of violence and abuse. Through education and personal healing, she created the foundation for her programs; including being certified as a PTSD facilitator. Ms James is personally committed to utilizing creative expression as a vital and effective healing modality.
She is the author of "What Will Set You Free", as well as a singer songwriter. She is a minister at the Mile Hi Church in Denver. Cynthia's newly released book, Revealing Your Extraordinary Essence, offers practical tools for empowered living.
---
Sunny Dawn Johnston - Author, Psychic Medium, and Spiritual Counselor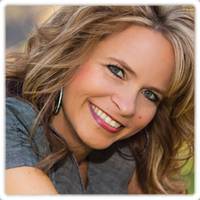 Sunny is the author of Invoking the Archangels. Sunny has become widely known and respected as an International Intuitive, Medium and Spiritual Teacher. Sunny has been featured on many local and national television and radio shows including Coast to Coast with George Noory and Good Morning Arizona. Sunny is actively involved in the Spiritual Community and frequently conducts informational outreach work. Her workshops and seminars at Spiritual Conferences, Holistic Expos, Community Colleges, Bookstores, City Libraries and her own Spiritual Healing Center in Glendale, Arizona are highly attended.
Sunny volunteers her time as a psychic investigator for the international organization FIND ME. This is a not-for-profit organization of Psychic, Investigative, and Canine Search & Rescue (SAR) volunteers working together to provide leads to Law Enforcement and Families of missing persons and homicide. http://www.sunnydawnjohnston.com/
---
Nicholas Mann - Author, Teacher, Founder – British Mystery School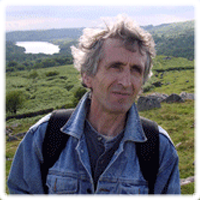 Nicholas Mann is the author of books on geomancy, mythology, the Celtic tradition, sacred geometry and, most recently, archaeoastronomy. Nicholas Mann is also an internationally respected speaker who has spent a lifetime exploring the wisdom of ancient peoples. In his latest work, Avebury Cosmos, he offers a compelling view into the world of the Neolithic monument-builders to produce a set of powerful insights into ancient cosmology with with relevance today. www.britishmysteries.co.uk
---
Dr. Rollin McCraty, PHD., Scientist and Researcher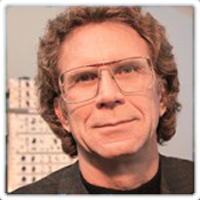 Dr. Rollin McCraty –Rollin McCraty, Ph.D. is the Executive Vice President and Director of Research at the Institute of HeartMath, and has been with the organization since its inception in 1991. He worked with founder Doc Childre to formulate the research goals of the organization and create its Scientific Advisory Board. Dr. McCraty is a Fellow of the American Institute of Stress, a Visiting Senior Scholar at Claremont Graduate University, and a Visiting Professor at University of Alabama at Birmingham. He has co-authored and published numerous research papers.
---
Sarah McLean – Author and Meditation Teacher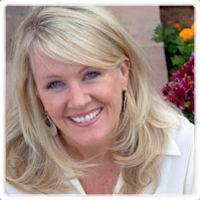 Known as the face of contemporary meditation, best-selling author Sarah McLean has taught thousands of people worldwide to meditate. Deepak Chopra recommends her book, Soul-Centered: Transform Your Life in 8 Weeks with Meditation (Hay House 2012) saying it's "entertaining, informative, and inspiring for even the most experienced meditator."
Sarah is now the director of the McLean Meditation Institute for Transformative Meditation Training in Sedona, Arizona which offers meditation classes, self-discovery retreats, and teacher certification programs. Her work is shared in corporations, educational institutes, new thought churches, Hay House events, Esalen, Omega Institute, Miraval, and at inspirational gatherings nationwide. She's been featured in the New York Times, the Huffington Post, Prevention Magazine, and has taught meditation on national TV including Fox Health News. Download her free meditations at www.McLeanMeditation.com.
---
Mary Manin Morrissey – Founder, Life SOULutions, Author and Speaker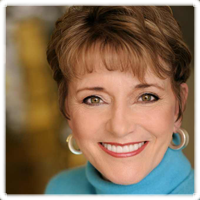 Mary Morrissey – Speaker, best-selling author, and consultant for over three decades, Mary Morrissey's transformational talks and seminars have made her one of the elite teachers in the human potential movement. She is the president and founder of LifeSOULutions, an international company providing programs and products that transform dreams into reality.
Representing the Association for Global New Thought, she has co-convened and facilitated 3 different weeklong meetings with His Holiness The Dalai Lama in leading conversations with world leaders, and addressing the most significant issues our world is facing. In addition, as part of the Gandhi-King delegation, she met with Nelson Mandela in Cape Town, South Africa.
She is the author of two best-selling books, No Less Than Greatness and Building Your Field of Dreams, which became a PBS special. Her lastest book The Miracle Minute, was published in 2012. http://www.marymorrissey.com/
---
Dr. Deborah Rozman – Scientist and Psychologist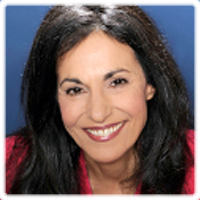 Dr. Deborah Rozman, PhD, CEO of HeartMath Inc.
Deborah helped Doc Childre start the non-profit Institute of HeartMath in 1991 and as Executive Director she was involved in overseeing the exciting research on the heart and creating the HeartMath training programs. Before HeartMath, Deborah was an entrepreneur, psychologist, business executive and founder of one of the first private children's school in holistic education in Northern California. She studied at the University of Chicago and University of California at Santa Cruz, and has a master's degree in child psychology and a doctorate in the psychology of consciousness.
Since 1975 she has authored or co-authored over a dozen books, including HeartMath's Transforming Series books (New Harbinger Publications) with Doc Childre: Transforming Anger, Transforming Stress, Transforming Anxiety and Transforming Depression, and Stopping Emotional Eating. She does keynote addresses for executives, scientists and conferences throughout the world, and is a key media spokesperson on the role of the heart in performance, wellness and personal growth. http://heartmastery.com/about-us/deborah-rozman
---
Colin Tipping - Teacher, Author, Founder of Institute for Radical Forgiveness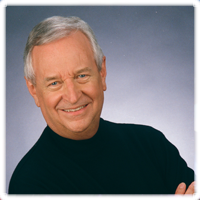 Colin Tipping is the creator of what has come to be recognized as the most powerful leading-edge technology for personal and spiritual growth today – Radical Forgiveness. His book, "Radical Forgiveness: Making Room for the Miracle," has become an international best-seller, leading to the healing of individuals, families, races, corporations and communities. Tipping has authored other books and online programs to help people apply the Radical Forgiveness Technology to numerous practical, real-life applications including self-forgiveness, improving relationships and weight loss.
Born and educated in England, Tipping was a professor at London University before emigrating to the United States in 1984. Applying his skills as a teacher and a licensed hypnotherapist, Tipping worked extensively with cancer patients to achieve emotional and spiritual healing. With his wife, JoAnn, he founded the Georgia CancerHelp Program and Together-We-Heal, Inc. He is an ordained interfaith minister with the Universal Brotherhood Movement, Inc. http://www.colintipping.com/
---
Mike Booth, Author and Chairman of Aura-Soma, ASIACT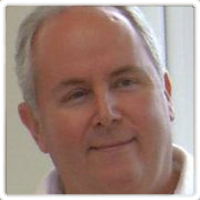 Mike Booth is a teacher, author and Chairman of Aura-Soma. AURA-SOMA® is color energy and color therapy for everyone. It is a non-intrusive and self-selective system in which colur is the key. Mike is an author of many books on the understanding of color and the Aura-Soma Color-Care-System®, which have been translated into several languages including German, Spanish, Chinese and Japanese.
Mike is also Principal of ASIACT, Aura-Soma's charitable sister-organisation dedicated to expanding awareness and education on the benefits of color in relation to consciousness and well being. In Mike's work with ASIACT as an educator and inspirational speaker, he travels throughout the world illuminating the mysteries and meanings of color, subtle anatomy, complementary traditions, the use of Aura-Soma substances and care of the planet. http://www.aura-soma.net/
Tribal Elders and Teachers
Uqualla – Havasupai Tribe (people of the blue-green waters), Arizona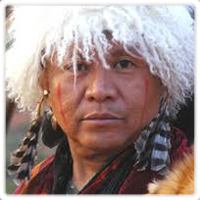 As a recognized ceremonial leader and spiritual advisor, he has been called to officiate unions, birth, blessings and healings. Some call him a medicine man, sage, storyteller, wisdom keeper and priest. His journey has been blessed with the divine meetings of spiritual leaders, tribally, nationally and globally. Uqualla's Sacred Oratory, a lecture, is heard through out Japan, Europe, South America, and the United States. http://www.uqualla.com
---
Larry Running Turtle Salazar – Tsa La Gi Tribal Elder, Oklahoma-Texas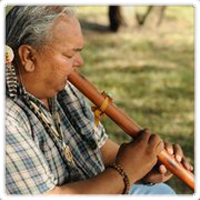 Larry Running Turtle Salazar has worked at Advocate for Indian Burial Rights communicating his passion. He is also an artist and knows how to speak Apache, Japanese, Spanish, and English. Larry Running Turtle Salazar is persistent and determined to retrieve and return the bones of his people to their rightful resting place and to find any means possible to restore the respect and nobility due our native forefathers. Larry's vision is to erect a forty foot monument to memorialize the hundreds of thousands of native souls who have been vandalized by supposedly legal grave robbers. Larry will never rest until he sees his dream fulfilled. We are pleased to support Larry's project as one of the top funding priorities of our non-proft company, Global Wholeness. http://staip.webs.com/larrysdreamricahrsardor.htm
---
David Swallow Jr. – Spiritual Leader and Head Man of the Lakota, South Dakota
David Swallow's Lakota name is Wowitan Uha Mani, Walks With Pride. He was born and raised near Wounded Knee, South Dakota on the Pine Ridge Reservation. He was taught the ancient Lakota ways by his Grandparents and is recognized by his own people, both on and off the reservation, as a Spiritual Leader and Sundance intercessor. He travels to teach about the sacredness of Mother Earth and to bring about awareness of the situation of his people back on the reservation.His CD recordings contain sacred Lakota prayer songs and sweat lodge songs. http://www.matoska.com/whitebearrecords/david_swallow.htm
---
Ernesto Hernandez Olmos – Mexico, Bridging the Wisdom of the Elders to today's Youth.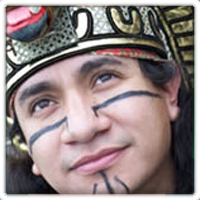 Ernesto was born in Oaxaca, Mexico. Ernesto is a multi-talented artist, specializing in many cultural art forms of the pre-Columbian peoples of Meso-America including music, dance, storytelling, sculpture, painting and making traditional instruments out of wood and clay. Ernesto was born in Oaxaca, México, and received his degree in art at "La Escuela de Bellas Artes" of the University of Oaxaca, and is an accomplished muralist with many standing artworks around the Bay Area. Ernesto is founder and director of Xaguia Gura and co-director of Balamoatl, projects dedicated to the diffusion of indigenous Meso-American culture, music and dance.
He has participated in over forty collective exhibits, eight one-man shows, and mural projects. His paintings have been shown at the Metropolitan Museum of Art in New York in an exhibit on young Oaxacan painters.
Hernandez has been teaching art, music and dance to children and adults for the last six years. He is currently serving as an Artist in the Schools for a California Arts Council program hosted by MOCHA (The Museum of Children's Art), and for the Mexican Museum Street Smart Program in San Francisco.
---
Angaangaq Angakkorsuaqq – Greenland Elder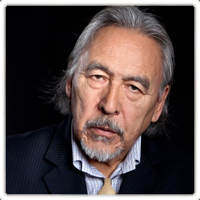 Angaangaq Angakkorsuaq, shaman, healer, storyteller and carrier of the Qilaut (winddrum), is an Eskimo-Kalaallit Elder whose family belongs to the traditional healers of the Far North from Kalaallit Nunaat, Greenland. His name means 'The Man Who Looks Like His Uncle'. Uncle, as he is frequently called, bridges the boundaries of cultures and faiths in people young and old. His work has taken him to five continents and over 50 countries around the world including South Africa, North America, South America, Asia, Arctic Europe, Russia, and Siberia. Angaangaq conducts healing circles, intensives, and Aalaartiviit – traditional sweat lodges. His teachings are deeply rooted in the wisdom of the oral healing traditions of his people.
Angaangaq is a keynote speaker at international conferences on climate change, environmental and indigenous issues. His work is acclaimed in promoting interracial and intercultural harmony.
Angaangaq's ceaseless work takes him to schools, prisons, businesses, conferences and senior homes, both at home in Kalaallit-Nunaat and throughout the world.
"Only by melting the ice in the heart of Man does Man have a chance to change and begin using his knowledge wisely." http://en.icewisdom.com/index.php/category/icewisdom
---
Special TRIBUTE TO: Auntie Nahi – Hawaiian Kahuna Teacher and Healer
Auntie Nahi – Hawaiin Kahuna teacher and healer who blessed the beginning of our project in June 2009, deceased September 2010. Nahi was devoted to Maui and the people of her island. Indeed she loved all people, all colors, beliefs and stations in life. She was a healer in the truest sense of the world and the people she brought together in love and ceremony had been forever changed by her ability to express unconditional love.
---
Grandmother Margarita Nunez Garcia – Mexico, Grandmother Elder Teacher and Speaker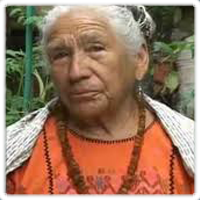 Grandmother Margarita teaches the customs and traditions of her ancestors. She reminds us of the importance of Mother Earth and Father Sun, which are the basis of humanity: our origin and source of subsistence. "My work is to plant seeds of knowledge so that they can grow and give fruits. I come to remind you of what is already inside you. The Woman has to take her place as the teacher of humanity and it is through her that change will come."
Abuela Margarita belongs to the Native Council of Elders of America and has participated in numerous aboriginal gatherings in Mexico, Brazil, Peru, the United States, Canada, and Europe. She takes part in the Sundance, Earthdance, Moondance, and other ceremonies, including sweatlodges and vision quests on a regular basis. (*Abuela = Spanish for Grandmother) https://themorningstarfoundation.org/Grandmother_Wisdom_Keepers.html
---
Hunbatz Men – Mayan Elder Wisdom Teacher and Author
Hunbatz Men is a Mayan elder who lives in Merida, Yucatan, Mexico. He is a Shaman, Daykeeper and teacher of traditional Mayan wisdom passed down to him through generations of Mayan elders. He has committed his life to transmitting these sacred teachings to others who have an interest in the vision and practices of ancient indigenous cultures. He believes that modern peoples can benefit from understanding the world view that the teachings of the Mayas express. This path of sacred wisdom teachings is offered through Maya Mystery Schools, and draws students back into the higher consciousness of the universe, back into Cosmic Consciousness, which they have forgotten. His books include Secrets of Mayan Science/Religion and The 8 Calendars of the Maya: The Pleiadian Cycle and the Key to Destiny
The ultimate purpose of Hunbatz Men's work is to restore our planet to harmony with natural and cosmologic cycles. He believes that the way to help Mother Earth and her children return to a state of harmony is to raise human consciousness once again closer to the Cosmic Consciousness of advanced ancient peoples. http://www.themayas.com.mx/